FFT 2010 Sponsors!
Check out our growing list of sponsors and vendors for the 2010 Fly For Tots!
Sponsored & Team Pilots
Click here to see who will be wowing the crowd at the 2010 Fly For Tots!
Sponsorships
Interested in becoming a Fly For Tots SPONSOR? We would love to have you! Click here for more info.
Contact Information
Click here for physical mail, e-mail and telephone contact information.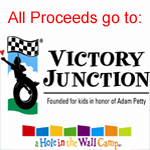 Sponsorship Information
What you can do to help...
---
Do you want to contribute to the Fly For Tots?
-> The FLY FOR TOTS needs YOU!


Without Sponsors, we would never have been able to accomlish all of the great things that we have over the years with this event. To all of our sponsors from previous years, we hold an unwaivering respect and appreciation for you. To all of our future sponsors, we welcome you with open arms and will promote you through our advertising and at our event. 100% of your contributions are dedicated to our non-profit event, wether it be monetary or physical products and services to include in our raffle prizes. The majority of money we raise during the Fly For Tots is through the sell of raffle tickets. The remainder is donated monetarily by companies and individuals. 100% of what we raise goes directly to our non-profit recipient. Anything you can offer the Fly For Tots is of great value and appreciated. With your support, we can continue to advance the Fly For Tots, which inevitably allows the event and it's cause to flourish. Our combined efforts will add a positive element into childrens lives that may not otherwise be afforded. This event is our passion. Make it your as well!
If you are interested in becoming a sponsor of the Fly For Tots, please contact:
Larry Lewis
(919) 231-4983
rclarry@aol.com
or
Robert Vess
info@vessaero.com